KSDE, state board cover up disappointing 2022 state assessment results
You might expect that Kansas Commissioner of Education Randy Watson would give the Kansas Board of Education a detailed analysis of the 2022 state assessment results, but you'd be wrong. Here's what he told them at their October 11 meeting:
"English language arts fell again. Math did not. Math actually rebounded close to the 2019 levels but not quite."
That's it. No historical trends of students below grade level or proficient. No examination of race-based or income-based achievement gaps. And no discussion of plans to remedy the tragic, long-term trends of lackluster achievement. Nothing to see here.
You'd think that state board members would not ignore such a blatant attempt to hide the results, but you would be wrong again. No one asked to see the actual results or discuss them in a public setting.
Without explaining that kids scoring in Level 2 on the state assessment are considered at grade level but need remedial training to be proficient, Watson asserted that the "biggest bank for the buck" is in Level 2.
"There would be some in the state of Kansas that say over and over again the kids in Level 2 are failing. That discussion needs to cease today. They are not failing. In fact, most of them graduate high school. The vast majority go on to post-secondary, and they're scoring an average of around 21, which is the college admission score to get in.
"And that's why when you look at the state assessments of how we describe it, we say they have a basic knowledge of academic skills to go on, and Level 1 is a limited knowledge."
People are not saying that kids in Level 2 are failing. They just state the facts, which is that kids scoring in Level 2 need remedial training to be proficient and on track for college and career. But KSDE and the State Board of Education don't want parents to know that the 2022 state assessment results show Kansas has more students below grade level than are proficient and on track for college and career.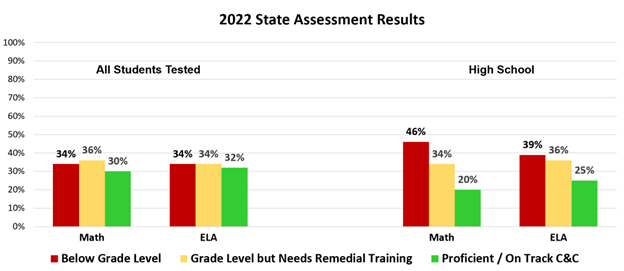 Watson also said, "Kids in Level 2 do well."
Board president Jim Porter seized on Watson's statement to continue the deception, indignantly declaring, "We were told that Level 2 was basically grade level. That's not a term (grade level) that we use much, but you know that Level 2 was sort of on track, and Levels 3 and 4 are college or post-secondary.
"This is another example of what I've been talking about for the last two or three months. Other people are controlling the message and saying inaccurately that anybody that is not in Level 3 is failing."
As is often the case with Porter's claims, he is deceiving parents and everyone else listening.
When cut scores were set in 2015, Level 2 clearly was not 'on track for college and career.' The adjacent graphic is what KSDE told legislators in 2015. Level 2 is grade level, only Levels 3 and 4 are on track for college and career, and Level 1 is obviously below grade level.
And no one is saying that kids in Level 2 are failing; that is just another of education officials' attempts to deflect from the fact that kids in Level 2 are at grade level but not proficient, and only those in levels 3 and 4 are proficient. They don't want parents to know that, by their official measure, only a third of all students tested are proficient, and just about a quarter of high school students.
House Education Chair Kristey Williams (R-Augusta) says it's really disheartening to see continued drops in proficiency over time.
"It's my hope that the State Board will prioritize improvement for all students and consider ways to ensure kids can read, write, and do basic math at their grade level. I just know we can do better."
We can do better, but not if the education system is left to its own devices. There is one example after another of education officials consciously deceiving parents…de-emphasizing academic preparation…and even ignoring state laws designed to improve outcomes.
Parents cannot count on the public education system to close achievement gaps and improve stubbornly low outcomes for all students because local school boards and district administrators place a greater priority on the institutional interests of the system than on students' needs.
States with robust school choice options have superior academic gains, especially for students of color and low-income kids. Parents support choice by a 50-18 margin, and there is universal support across ideological groups.
Legislators must implement a money-follow-the-child program for all students in 2023. If they don't, it will be déjà vu all over again when state assessment results are reviewed in the years to come.