State audit: just spending more won't improve achievement
Kansas Governor Laura Kelly is touting recent slight increases in state assessments as proof that more spending results in improved student achievement. But a state audit and the history of spending and achievement show she is wrong.
The governor's office recently sent out a press release linking to a Topeka Capital-Journal story reporting that "Kansas schools are finally turning around what had been a yearslong slide in student academic achievement."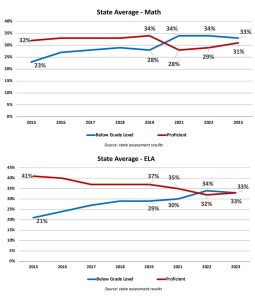 While the Cap-Journal story admits "… significant work remains to keep that momentum going," the "turnaround" is a very slight uptick in state assessment results for the 2022-23 school year, outcomes were declining before the pandemic and remain below 2019 levels.
According to data released by the Kansas State Department of Education on Oct. 17, 2023, the number of students who are proficient (levels 3 and 4) in math increased from 29% to 31%; proficiency in English Language Arts improved from 32% to 33%.
However, both outcomes remain below pre-pandemic levels, and the number of students below grade level has gotten worse since 2019.
Outcomes in English Language Arts are particularly concerning, where proficiency dropped from 41% in 2015 to 33% now, and students below grade level jumped from 21% to 33%.
At the same time, spending has increased significantly and is expected to be well above $17,000 per student when 2023 results are released. College readiness in English, Reading, Math, and Science plummeted from 32% in 2015 to just 19% now.
Moreover, contrary to Kelly's claims that "as education funding increases, Kansas student test scores rise," a recent report from the Kansas Department of Legislative Post Audit found that "It is unlikely that any amount of additional spending will result in all students meeting state standards because student outcomes are the result of many factors beyond spending."
While LPA suggests that some targeted spending — such as on teacher pay or instructional materials may be helpful, it is unlikely to close the achievement gap.
LPA noted that scores have been sliding since at least 2017 — as funding was steadily increasing — and "across-the-board spending increases were associated with almost no increase in the percentage of students who met state standards. Targeted increases in spending were associated with improvements in the number of students who met state standards, but significant numbers of students would still be unlikely to meet state standards."
In its conclusion, LPA noted it is going to take more than money to fix the consistent achievement issues in the state.
"Even this targeted spending approach appeared to fall far short of closing the achievement gap and leaves significant numbers of students not meeting state standards," the auditors wrote. "It is likely that strategies beyond just spending more money are needed to give Kansas schoolchildren the best chance at academic success."
Ben Scafidi, director of the Education Economics Center at Kennesaw State University, agreed with LPA.
"I applaud LPA and their consultants for a sober analysis of education spending," Scafidi said. "The LPA performance audit clearly shows that even prior to the pandemic, as public education spending in Kansas was increasing, student achievement was falling."
Scafidi also said lawmakers need to allow parents a choice.
"Kansas policymakers have two choices," he said. "Choice one is to continue to provide more and more taxpayer money and hope, contrary to history, that public school districts spend their increased funding wisely for the benefit of students. The second choice is to give state education dollars directly to Kansas families and let them decide what is best for their own children.
"A large amount of research shows that giving education dollars directly to parents leads to higher student achievement for students who remain in public schools. Thus, choice two appears to give school districts to spend their resources more carefully."